Team Fly Halo was formed in 2012 by three innovative pilots that aim to take our sport to the 'next level.'  We are here to provide the best and most in depth powered paragliding training in the industry as well as give our team members a safe, secure way to buy their favorite products online.  We aim to sell the best gear on the market and have partnered with the right companies to make that happen. Our company is based out of Bend, Oregon however we are able to teach all over the USA.
We're looking forward to you being apart of the team!
So who are we?
Shane Denherder
Test Pilot / Instructor
Shane developed his passion for flying early in his life. After taking his first flight in a single-engine airplane at age four he "never came down". His dad, a private pilot, let him routinely take the controls and fly all over the Pacific Northwest in his childhood years while sitting on a phone book to see over the instrument panel.
After pursuing a private pilot's license, Shane joined the US Army and became an Army Aviator piloting UH-60 Blackhawk helicopters in one of the most elite Air Assault units in the Army. After three combat tours to Iraq and eight years on Active Duty, Shane retired and went on to pursue a "friendlier" form of flight.
After going on a tandem ride with his best friend Byron, Shane took the "full immersion" path by moving to Salt Lake City Utah and flying paramotors 3-5 times per week while building paramotors for a living. He has lived at the Point of the mountain flight park area for the past few years, flying either powered or unpowered paragliders nearly every single day. He began instructing on paramotors in 2011, and after teaching nearly 60 students he transitioned into instructing full-time at the Point of the Mountain.
Shane has trained with world-class pilots such as Brad Gunnuscio and Chris Santacroce. He was brought up instructing at the Point of the Mountain and apprenticed with several first-class instructors. As a result, he now teaches at one of the country's best paragliding schools right next to Chris Santacroce. He loves teaching, flying the mountains in Utah, and giving tandem flights to newcomers. And when the wind just isn't right he loves to jump on his paramotor and burn gas.
Shane's passion is to introduce paramotoring to those that once thought personal flight was out of their grasp, or means.
"The rules are sparse, and the only objective is to have fun. Of all the forms of flight I've experienced, paramotoring is the truest and most free. No other aircraft can recreate the feeling that an aspiring pilot gets when they dream of flying."
Jeff Toll
Web Master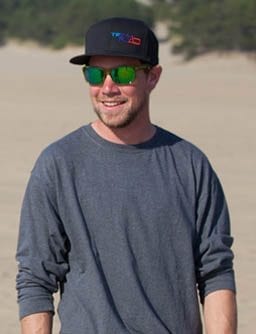 Jeff has been obsessed with aviation and flying his entire life.   Being the offspring of a NAVY officer, Jeff was surrounded by Naval aviation which further induced his cravings to get in the air.   At 14 he began flying lessons  in Cessna's but soon discovered paragliding and knew exactly how he wanted to fly.   Jeff has flown many different fixed wings, helicopters but one of the strangest things he's ever flown was a blimp that he says "handled like an aircraft carrier."  He's always had a craving for adrenaline rushing sports and has been hooked on powered paragliding since his first flight back in 2008.  It is rare to find him flying straight and level, he's always going in circles.
Jeff loves to fly as much as he can and really enjoys taking his wife tandem around their hometown of Virginia Beach, VA.   On the business side of things, Jeff is the 'nerd'  @ FlyHalo.com.  Jeff has owned various internet business's since 2004 and currently owns  a gossip website  visited by over 1 million people monthly.
"I'm really happy to be apart of Team Fly Halo. Working with Byron and Shane is awesome, these guys have a ton of experience and are excellent instructors."
Byron Leisek
Research & Develoment, Instructor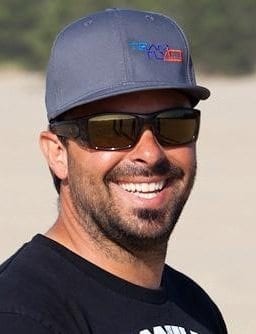 Byron Leisek AKA:  "The Sky Pirate" has been flying since he was born in 1979.  Byron grew up in a family of Hot Air Balloon pilots and at the age of 13 soloed in the sport of Hang Gliding.  In 2005 Byron was introduced to the sport of Powered Paragliding and has been involved ever since.
Byron currently has over 3400 Powered Paraglider flights including 275 tandem Powered Paragliding flights and has been instructing new pilots into the sport for over a year now.  Byron is also a certified parachute rigger and his experiences as a seasoned pilot include:  high altitude launching (over 6000 msl), high altitude flights (over 12,000 msl), mountain flying, reserve pull and re-pack and is responsible for coining the phrase "ParaCamping".
"I'm super grateful to be teamed up with Team Fly Halo and I'm very excited for the adventures ahead."