Description

KEEPS YOU IN TOUCH AND FLYING IN THE RIGHT DIRECTION
Bluetooth 4.1 and Universal Intercom™
The Sena 20S PARAMOTOR Bluetooth® Communication System helps you enjoy your flight to the fullest by keeping you in touch with up to eight of your buddies in crystal-clear HD audio, up to 2.0 km (1.2 miles) away, through the Group Intercom™ feature. The 20S uses the Universal Intercom™ protocol so it can be used with all Sena and non-Sena Bluetooth headsets on the market.
CONTROL MADE SIMPLE
New user interface: motion sensor and voice commands
The new user interface makes setting up and pairing your 20S incredibly easy, thanks to Sena's motion sensor technology. Pair your Bluetooth devices with a simple shake of the 20S. Once you're on the road, complete control of the 20S can be done through hands-free voice commands. Intuitive technology ensures safe, controlled riding as you seamle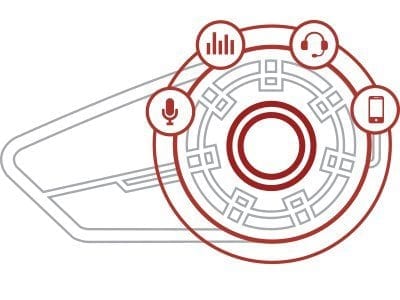 ssly move through music, phone, and intercom features. The optional Handlebar Remote control gives you even more command-and-control flexibility. Technology that keeps things simple. That's the Sena advantage.
Remember to add the Sena Earbud Accessory to your order for optimal performance.
Click here for more information on the Sena 20s.