Oregon is headquarters for Team Fly Halo and each summer we run multiple training classes teaching students how to fly these awesome aircraft on the Oregon coast.     Our paramotor training classes during the summer months are run in Pacific City, Oregon.    Pacific City is a gorgeous coastal town offering the perfect training environment for our students.   We love heading to the coast every summer to fly this awesome location!
We publish dates for upcoming classes in the left sidebar of this page.   Flying in?  We can pick you up from Portland International Airport.
What does it cost and what do you get?
Our course runs @ $2500.00 for a lifetime of training. What this means is after your initial training, you are welcome to attend any of our courses free of charge.
During your first trip out to us we cover the following:
Lodging
Transportation
Gear Rental
One unforgettable experience
We limit each class in Pacific City, Oregon to 6 total students.  3 students per instructor to give as much one on one time as possible.
The only thing we ask of you to bring to training is a great attitude and be ready to have tons of fun. If you would like to talk with any of our past students about our gear or our operation, please let us know or check out our training testimonials.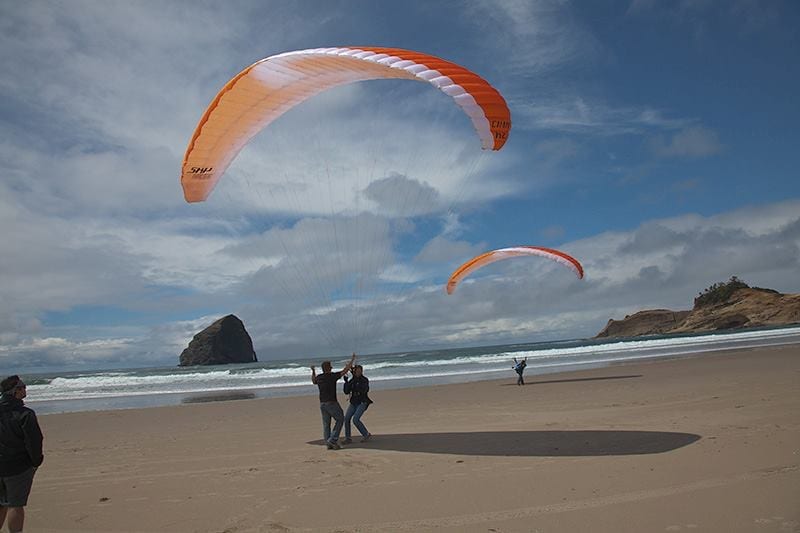 At this time, Team Fly Halo is able to administer USPPA ratings PPG1 – PPG3, and USHPA ratings P1 – P4.  Team Fly Halo Members will have what they need to be successful toward earning ratings.  A USPPA PPG2 rating (the standard) is very attainable within this time frame.  However this will vary depending upon individual ability, and weather conditions.  Naturally, we travel far and wide to seek the best training destinations to maximize your success, but there are some circumstances that can be out of our control. Students always have to option to come back to scheduled events to earn additional ratings if they desire.
Meet Our Instructors:
Ready to get started or have questions?  Shoot us an email – team@flyhalo.com or give us a call @855-FLY-HALO.  We are looking forward to you being a part of the team!