When we call the SCOUT paramotor a game changer, we mean it.  We do not use empty marketing hype to promote the SCOUT.  It truly is a revolution to this sport and we are quite proud to put our name behind it.
The following is a review from the latest SCOUT customer, Trevor Meeks.
"I am extremely excited to get up in the air on my new Scout. After flying a demo unit a few weeks ago thanks to Shane and Byron with Team Fly Halo, it's all I have dreamed about.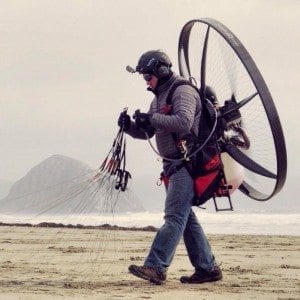 If you aren't familiar with the Scout, it's a fairly new design that is constructed almost entirely out of Carbon Fiber. The frame itself is aluminum, with the spars, prop and outer hoop formed from Carbon Fiber. The swing-arms are CNC'd anodized aluminum, and the harness is extremely comfortable. The whole thing just screams quality. It's powered by a Vittorazi Moster 185, and they have a few new engine options in the smaller cc range coming out soon I think.
Where this unit really shines though, is the anti-torque system. I've flown a few different motors and each has their own way of dealing with engine torque — either by hooking the glider in with slightly different height hook-ins, or using adjustable straps to pull a bit of weight-shift into the harness to counteract the torque. The Scout uses the aerodynamic spars (the parts holding the outer hoop to the frame) to counteract torque using the air being pulled over them by the propeller. This system works EXTREMELY well. I was skeptical when I heard the initial "hype" when the design was introduced, but wow… it really works.
Hopefully without sounding like a sales pitch, I just want to say that I am extremely happy with this paramotor so far, and I'm looking forward to expanding my flying horizons for many years to come with the Scout! It truly is a magnificent piece of engineering.
A shout-out to the guys at Team Fly Halo for the excellent service and for just being friendly, great dudes in general.
I'll keep you guys posted as I get a bit more experience with this machine. So far I've just completed breaking the engine in, in preparation for a paramotor fly-in this weekend here in California.
Happy flying!"
– Trevor Meeks        Click here for the full review by Trevor.