If you don't have a cup of coffee (or beer) in your possession, grab one before you start reading this loooong post.
Since Polini first announced the Thor190 Light back in October of 2013, I had been bugging them to get my hands on one.  On paper, it sounded like a kind of "middle of the road" big bore, at 29.9lbs and 27hp.  Maybe not worth getting too excited about.  But I have personally owned (and worn out) it's two closest engines in class, the Thor200 and the Vittorazi Moster – I can see the potential for something in-between.
The Thor200 has some great attributes: Heaps of power, super-smooth, easy starting, and magically-low fuel consumption.  I most loved the power and the fuel consumption.  If you can burn 30% less, you can carry 30% less – that's good.  It's got some downsides to it too.  Several of the initial models (first 12 months production) ended up eventually running hot, overheating, and scorching or blowing holes in pistons.  Both of Team Fly Halo's personal 200's did it within a week of each other at about 20hrs, as well as several of our customers' units.  Polini was good about it, but the recalls and modification kits have been an ongoing saga for which their reputation is going to be hard to earn back.  We know on a professional level they are a good manufacturer, we also like to be the ones who test everything of interest to us so that our customers don't have to – so we gave them another shot.
The Moster, for me, has been like a partner-in-crime in my paramotoring antics.  I started flying them about four months after I learned, and I have put several hours on more than ten individual engines since they came out.  I've seen all of the changes, failures, updates, improvements, etc.  It's rounded out to be a good engine in the high-power class with an acceptable failure rate.  When people ask me the downsides to it, I tell them that it's loud, burns lots of fuel, and always leaves my 220lb self wanting a tiny bit more thrust.  I'm greedier than most in the power department though.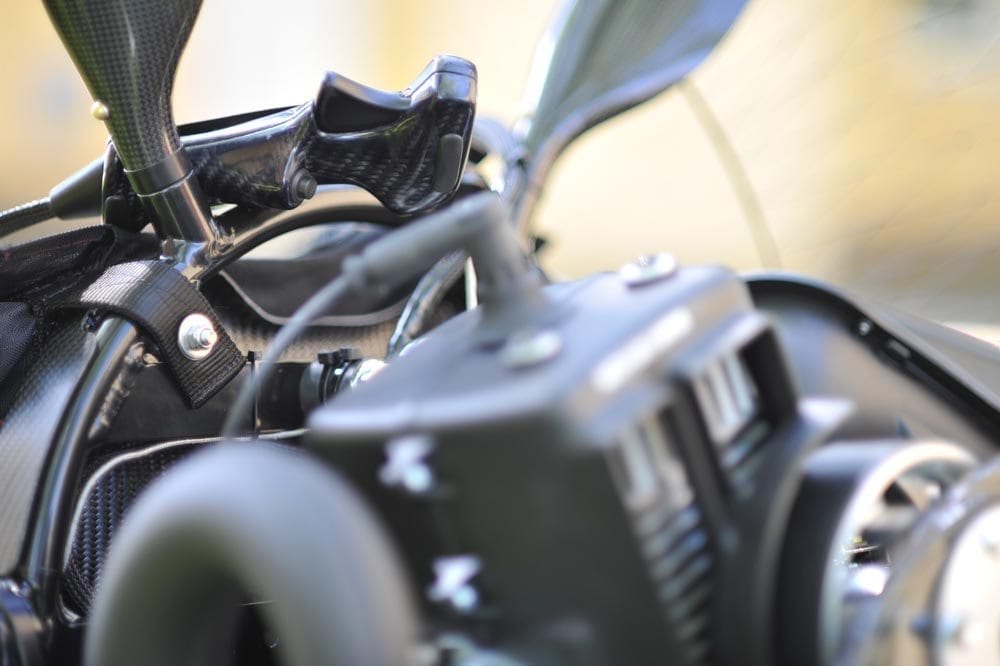 When I saw the specs on the Thor190, I imagined a 200 with the gearbox ripped off.  Whether that's true or not, there's some glaring similarities.  Same displacement, appears to be the same head, cylinder, mount, carb, etc.  It lacks the counter-rotating gearbox and flywheel that give the 200 the smoothness, and that's been replaced with a reduction pulley on what looks like the same exact bolt holes that were holding the gearbox onto the 200.  To be honest, the mechanism holding the reduction pulley on kinda looks like an afterthought.
At any rate, the Polini Thor 190 weighs nearly ten pounds less with one less horsepower.  That means it's pushing a better power-to-weight ratio – and presumably, a better climb rate.  If it's reliable, it's gonna be the ticket for this guy.
I finally got to unbox my Thor190 just three days ago.  Miroslav Svec was nice enough to do the right thing and adapt the Thor to the Scout frame without the use of an adapter plate – I'm really impressed with the configuration.  But I digress.
The Thor came with prop bolts and a belt tensioning tool that looks reminiscent of a slim jim used for opening locked cars…. not that I know anything about that.  I had our proprietary Halo carbon throttle installed on it, as well as a PPG Meter.  At the time of this article, the Thor190 did not have a user manual.  I was advised by Polini to use the Thor200 manual in the interim for general servicing and break-in.  There's a supplemental document that shows how to adjust belt tension, it can be found here: https://flyhalo.com/2014/04/polini-thor-190-scout-update/
After getting the whole unit together, I followed the procedure that I used to use to prime the Thor200 – act like you're trying to flood it, and then make sure the plunger doesn't stick into the carb (it will try).  After I figured out the intricacies of the newly installed master switch on my Scout, the Thor fired right up.  Out of the box it idled at about 1700rpm with a loud chirping that sounded like a loose belt.  During the initial warmup suggested in the 200 manual, the chirping subsided for the most part.  After warm-up, I tightened the belt only slightly.
The pull start is easy enough to overcome the compression.  This engine seems to have a heavier flywheel than the Moster I'm used to, which adds inertia to the start and makes it a bit easier to do one-handed.  It doesn't seem finicky at idle, and it doesn't need a lot of attention to keep it from loading up and dying – that's good.  On the back, the engine vibrates quite a bit – similar to a Moster or Minari.  At cruise or mid-range it's a bit smoother.  At full power, it picks up a high-frequency vibration that's similar to the Simonini Mini2 series.  All in all, you feel the power; but it doesn't rattle your teeth.  It's loud – it's not a little engine, and it doesn't sound like it.  Big deal, 'Murika.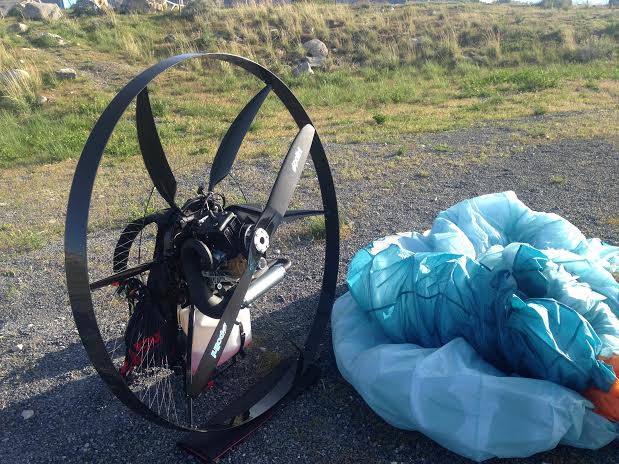 Kit / Conditions:
Pilot: 220lbs
Paramotor: Scout Carbon fiber paramotor – Thor's Hammer edition
Glider: Gin Sprint Evo 25.5m
Field Elevation: 4100′
Temp: 15 degrees C
The unit itself was a little bit heavier than the Moster-equipped version – but not bad at all, still under 60 lbs.  Luckily, you'll be saving some weight with all the missing cash that you shelled out for the Thor190 option.  How much heavier?  .7kg quoted – though we haven't been able to get them side-by-side on a scale.  We're not yet positive how much additional cost the Thor will be over the Moster, but we're estimating about $600.00.
Launching was easy enough, but once airborne I immediately noticed that the Thor190 is a tiny bit more sluggish to spool up than the Moster or Minari.  I'm not sure if this is due to a heavier flywheel, or if this is just how the powerband is mapped out.  Just like the Thor200 Evo, there is a "sticky spot" in the midrange from about 4500-5900 rpm.  When going from cruise to full power climb, it lagged just a little bit below 6000rpm and then cut loose and sang it's way up to 7900 really, really fast.  It actually kind of reminded me of turbo lag in that regard – nothing, nothing, nothing, then…..scary power.  Midrange throttle inputs were not as direct, so  precision low flying will demand that the pilot be slightly "ahead of the aircraft."  Personally I'll take it; I don't mind thinking ahead, and I really like the instant burst of power after passing 6000rpm.  I would be hesitant to put a heavier three-bladed prop on this engine, as it would make the spool-up just a little bit slower.
This trait might be a consideration for beginners or instructors – a comfy midrange can make sloppy throttle-control a little less sloppy.  If you're a pilot who is still trying to figure out how to stop oscillations in your glider, you might not want to compound the issue with having a delay in throttle response.  Maybe not – you could learn to get over it pretty quick.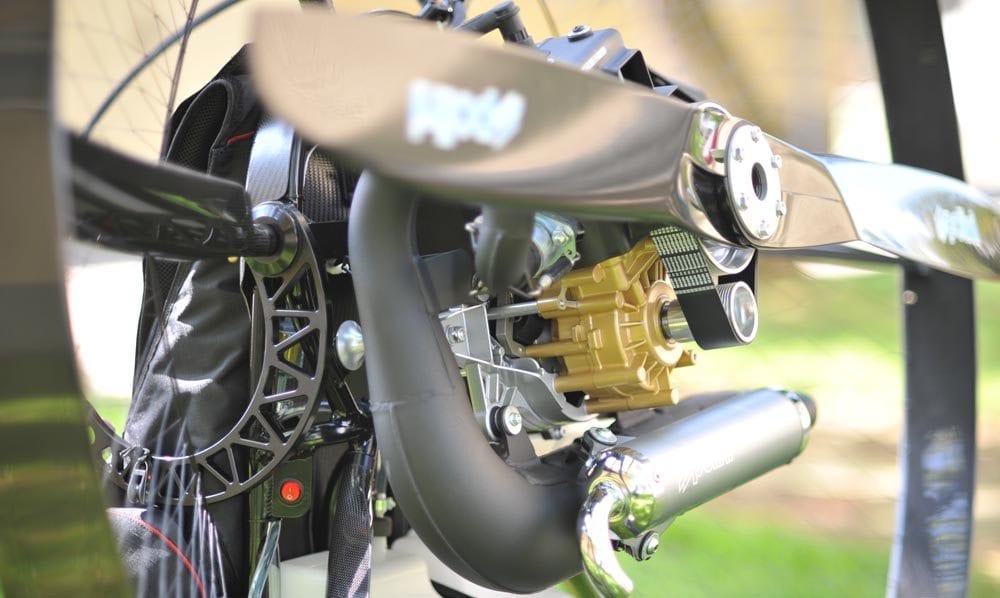 Torque on the engine was not bad on this configuration, it almost seemed to be about the same as the Moster, but that might be the Scout paramotor doing it's job.  I would like to fly both engines on a different setup to see for sure.  #salespitch
I did four full-power climbs with varying degrees of static brake input, including flying with my hands in my lap.  The torque effect definitely started slight oscillations, but it didn't turn more than 5-10 degrees under torque steer while getting established at that climb angle.  Remember that I'm 220lbs – YMMV.  I was able to do weight shift wingovers under full power getting equally as high on the wing on either side, so I don't think the torque steer is excessive.  There was a fleeting torque-twist sensation during each of the climbs, which was probably responsible for the oscillation at the beginning.
Climb rate – This was likely the best climb rate I've ever experienced at my elevation.  I used to fly a Thor200 at this very spot, and I was just never really impressed and didn't feel like the thrust increase was worth the extra weight over the Moster.  This engine seems to be a good mix of light weight and high power.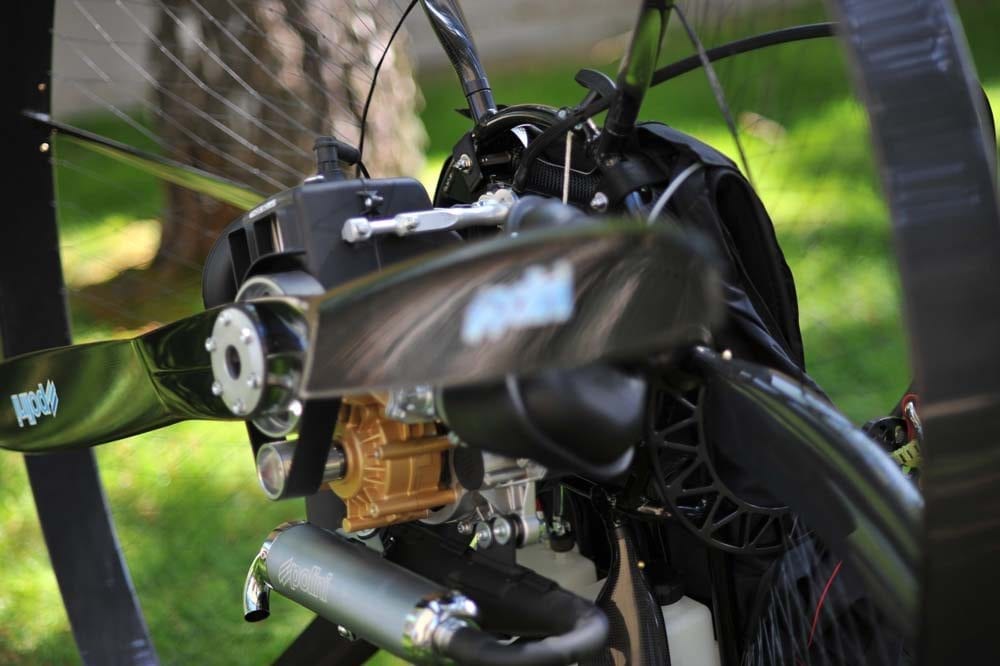 Data – I've never used gauges in flight, but when I saw that Polini was slightly behind schedule on releasing this engine; something told me I should have the PPG Meter installed to monitor temps.  During my flight I noted running temps between 145-175C during my normal flying (aggressive), and a peak of 193C during a sustained full power climb.  Unfortunately no one has posted any test data or manual on this engine, so I have no baseline for comparison.
During my flight, I noticed that the belt did loosen up and begin slipping a little bit.  This was expected, as the "belt stretching" .pdf file suggested it may happen.  Belt tightening is easy, you just need an 11mm socket, the slim jim that came with it, and 5kg of something. (internet sarcasm)
One issue I did have, is that the plastic dust cap that blocks off the hole for the electric starter (not installed) fell off while running in the engine and went through the prop, damaging it.  I hope that they will give this cap a little more engineering before sending this product out to the masses.
On post flight, I also noticed how clean the engine runs.  Very little sputter from the exhaust, no leaking fuel from the carburetor, not a lot of residue on the prop.  I made it a point to note how much fuel I had before and after, and was pleasantly surprised to see that in 37 minutes of flying I had burned less than 2 liters of fuel.   That's what I missed most about my old Polini.
Pros (so far):
Light(ish) weight
Excellent power to weight ratio (possibly the best climb rate I've observed of any engine)
Easy starting
Low fuel consumption
Looks cool
Cons (so far):
Throttle response sluggish with a sticky midrange
Belt adjustment mechanism – different, not confidence-inspiring
Dust cap on e-starter "hole" – really?
Loud
No manual or test data published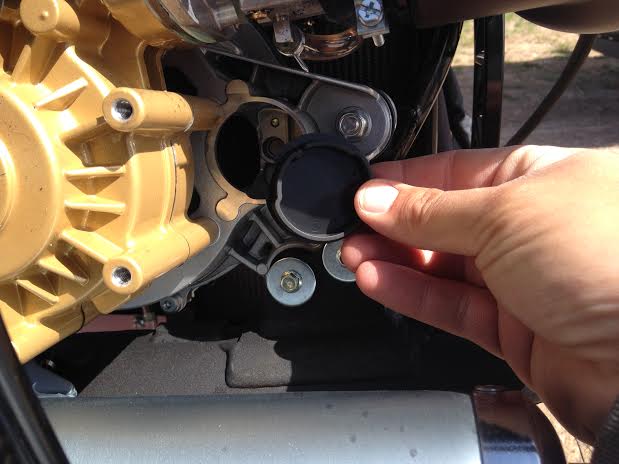 I'm going to proceed carefully and continue to be skeptical of this engine.  Coming out of the gate with these positive traits, I'm excited about what this engine can do for guys my size and for little guys who want to fly really small gliders.  I wish I had been testing this engine all along and could confidently recommend it to folks at this point, but for now we want to put some hours on it and see what shakes out in the upcoming months.
I hope to compete with it next month at the Endless Foot drag, so if anyone wants to see it up close, be sure to make it to that event and come say hi.  I have high hopes for this engine's cross-country capability given it's high power and low fuel burn, so I hope to be making some longer flights next month once the weather warms up a bit.
I will continue to update my findings, so be sure to tune into the next article!
-Shane